MANILA, Philippines (Dec. 4, 2014)  — Tropical cyclone "Ruby" (international name "Hagupit") has entered the Philippine Area of Responsibility while the United States Joint Typhoon Warning Center (JTWC) has classified it as a super typhoon.
The Philippine Atmospheric, Geophysical and Astronomical Services Administration (PAGASA) spotted the eye of Typhoon Ruby at 942 kilometers east northeast of Hinatuan, Surigao Del Sur or 1, 023 kilometers east of Surigao City.
Ruby is bearing maximum sustained winds of 175 kilometers per hour (kph) near the center and gustiness of up to 210 kph. It is expected to move west northwest at 25 kph.
Meanwhile, the JTWC said Ruby is packing one-minute average maximum sustained winds of 240 kph (130 knots) and gusts of up to 296 kph (160 knots).
The JTWC also sees Ruby to pack winds of 296 kph (160 knots) and gusts of up to 361 kph (195 knots) by December 5 and 6.
In a press conference yesterday, PAGASA said Ruby has a 75-percent chance to make landfall over Eastern Visayas on Saturday and cross the central Philippines. There is also a 25-percent possibility that it will recurve toward Japan.
The JTWC said Ruby will maintain a west northwestward trajectory under the steering influence of the subtropical ridge (STR). Within 48 hours, the super typhoon is expected to slow down.
JTWC forecast
According to the JTWC's latest prognosis and graphic forecast, Ruby may turn poleward and be near the Bicol region and Southern Luzon by December 7 and 8.
"There is a high probability that the system will start to turn poleward into the weakness in the STR though TAU 96. However, beyond that, the elongated STR in combination with the lower-level northeasterly surge will contribute in pushing the system on a more westward track into Southern Luzon," it said.
However, the Hawaii-based agency said that overall, there is low confidence in the said extended forecast track due to the significant division in the models.
There is also a possibility of an alternate forecast scenario, with the typhoon either significantly recurving east of the country or tracking westward into the Southern Philippines.
Rains over Bicol region, Eastern Visayas
In its 24-hour weather forecast, PAGASA said The Bicol region, Eastern Visayas, Caraga and Davao region will experience cloudy skies with light to moderate rainshowers and thunderstorms.
Cagayan Valley and the provinces of Aurora and Quezon will have cloudy skies with light rains.
Northeast monsoon continues to affect Northern Luzon while the regions of Cordillera and Ilocos will experience partly cloudy to at times cloudy skies with isolated light rains.
Metro Manila and the rest of the country will be partly cloudy to cloudy with isolated rainshowers or thunderstorms.
PAGASA has not raised any public storm warning signal over any area.
But as a precautionary measure, PAGASA and the National Disaster Risk Reduction and Management Council issued a list of areas that are critical due to the threat of the approaching typhoon.
56 Critical Areas due to Hagupit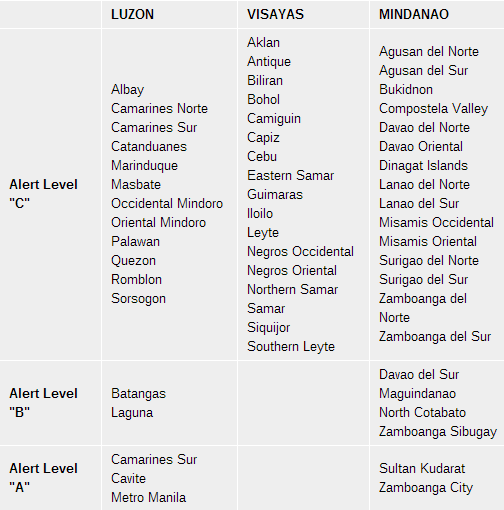 According to the list, which was shared on Twitter by state-run Panahon.TV, 44 areas are under alert level "C" and may experience heavy to intense rain and winds of 95-110 kilometers per hour (kph).
These areas would suffer heavy damage to agriculture, moderate to heavy disruption of electrical power and some large trees may be uprooted.
Areas under alert level "B" may experience moderate to heavy rainfall, winds of 30-60 kph and moderate damage to agriculture. Few large trees may be uprooted and some iron roofing may fall off.
Those under alert level "A" may expect also expect moderate to heavy rainfall and winds of 30-45 kph. - PhilStar
Related Articles: