December 4, 2014 — At 4:00 am today, the eye of Typhoon "RUBY" (codenamed: Typhoon Hagupit) was located based on all available data at 942 km East Northeast of hinatuan, Surigao Del Sur or 1, 023 km East of Surigao City (9.4°N, 134.8°E), with maximum sustained winds of 175 kph near the center and gustiness of up to 210 kph. It is forecast to move West Northwest at 25 kph. Northeast Monsoon affecting Northern Luzon.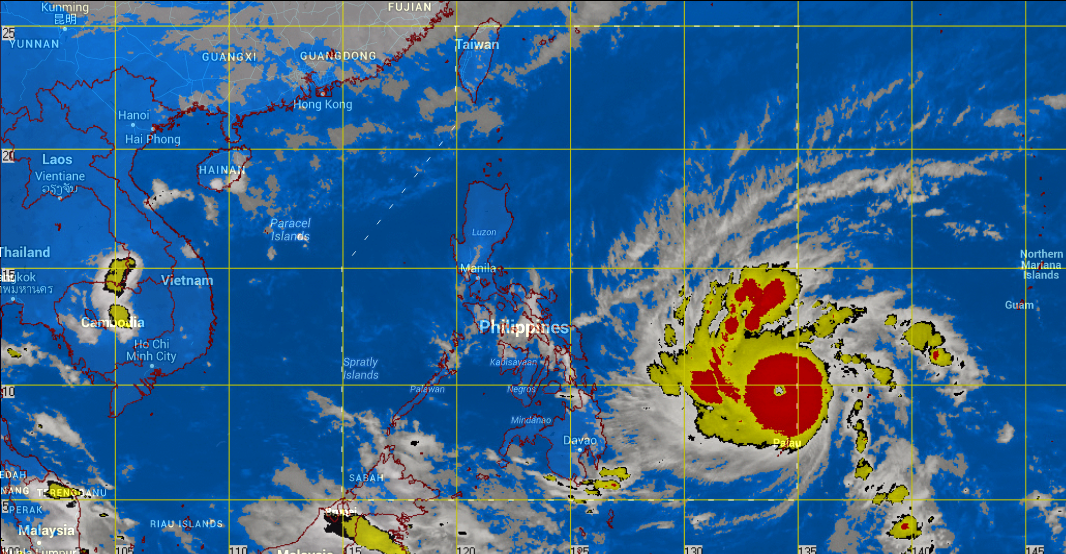 Bicol Region, Eastern Visayas, Caraga and Davao Region will experience cloudy skies with light to moderate rainshowers and thunderstorms. Cagayan Valley and the provinces of Aurora and Quezon will have cloudy skies with light rains. The regions of Cordillera and Ilocos will experience partly cloudy to at times cloudy skies with isolated light rains. Metro Manila and the rest of the country will be partly cloudy to cloudy with isolated rainshowers or thunderstorms.
Moderate to strong winds blowing from the northeast will prevail over Luzon and eastern section of Visayas and of Mindanao and the coastal waters along these areas will be moderate to rough. Elsewhere, winds will be light to moderate coming from the northeast to north with slight to moderate seas.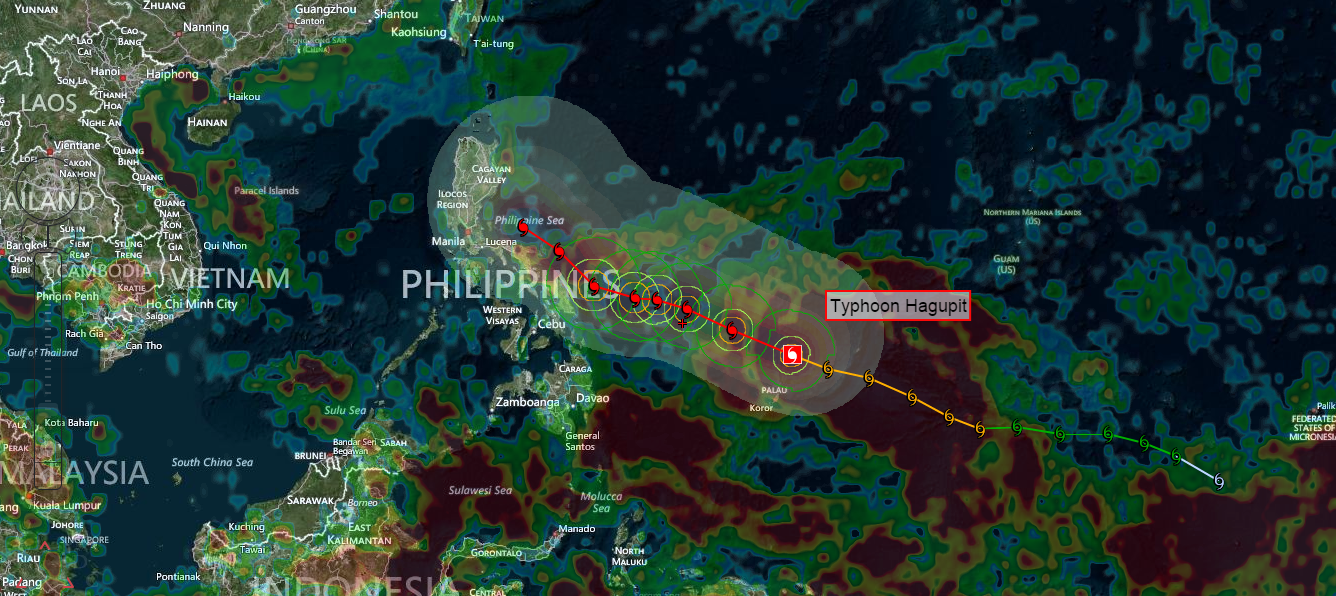 Typhoon Hagupit continues to strengthen, passing between Yap and Palau…forecast to become a Super Typhoon soon as it moves into the Philippine Sea
This typhoon was located approximately 91 NM west-southwest of Yap (~9,000 residents), moving west-northwest at near 21 mph…through Micronesia.
According to the Joint Typhoon Warning Center (JTWC), satellite imagery shows tightly curved convective cloud banding…wrapping into the low level circulation center.
Upper level analysis reveals Hagupit remains in a favorable environment, with low wind shear, and excellent radial outflow.
Maximum sustained surface winds have increased to 100 knots (115 mph)…with 125 knot gusts (144 mph).
Typhoon Hagupit is expected to intensify further as it moves across the western Pacific…into the Philippine Sea. The JTWC expects this system to peak near 130 knots (150 mph)…with gusts of 160 knots (184 mph) within 36 hours.
This system is moving very close to Yap, and then expected to move by to the north of Palau…as a strong typhoon during the next 6-12 hours. The extended JTWC forecast continues to suggest that this strong typhoon may briefly reach the super typhoonlevel…before it weakens and moves by offshore to the east of the Philippine Islands.
Environmental conditions will deteriorate by the 48 hour point, causing a steady decline in strength through the remainder of Hagupit's life cycle. Nonetheless, Philippine residents should continue to watch this developing tropical system closely through the coming days, as well as Taipei, Okinawa, and southern Japanese Islands, as Hagupit potentially recurves towards the northwest and north.
The biggest threat at the moment, according to the latest JTWC Warning #11, continues to be for heavy weather and seas impacting parts of Palau and Yap at the moment. Otherwise, all open ocean vessels should be steering clear of this strengthening tropical cyclone as it moves into the Philippine Sea.
The models remain divided in their guidance, with the eventual track either taking a sharp poleward turn before striking the Philippines…or a more gradual northward turn. Thus, the current JTWC long range forecast continues to carry a low confidence level.
One of the computer models has been consistently showing a landfall Saturday, very close to Tacloban on Leyte Island…which is where Super Typhoon Haiyan impacted the Philippines. However, if Hagupit does hit the Philippines, it will likely be a considerably weaker tropical cyclone than Haiyan was. Heavy rains may be the greatest threat for the Philippines from TC Hagupit…rather than the strongest winds and highest storm surge.There are still several more days of fine tuning required, as there will continue to be changes in the forecast track.
Source: Pacific Disaster Center, NASA, NOAA and PAGASA