December 3, 2014 — The center of Typhoon Ruby (international name "Hagupit") was estimated based on all available data at 1,610 km east of DAVAO CITY (7.5°N, 140.4°E), with maximum sustained winds of 140 kph near the center and gustiness of up to 170 kph. It is forecast to move west northwest at 30 kph.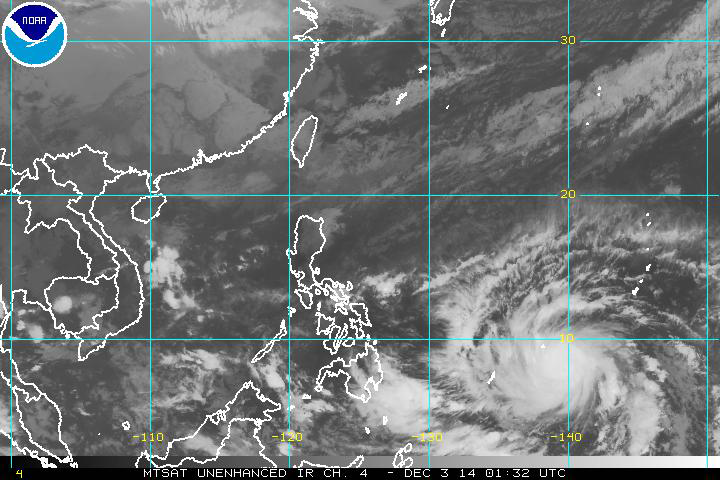 Typhoon Hagupit is expected to intensify further as it moves across the western Pacific…into the Philippine Sea. The JTWC expects this system to peak near 130 knots (150 mph)…with gusts of 160 knots (184 mph) within 72 hours.
This system will remain south of Guam and Yap, and then move close to Palau as a a strong typhoon within 48 hours. The extended JTWC forecast suggest that this strong typhoon may briefly reach the super typhoon level…as it moves towards the Philippine Islands.
Environmental conditions will deteriorate by the 96 hour point, causing a steady decline in strength through the remainder of Hagupit's life cyclone. Nonetheless, Philippine residents should continue to watch this developing tropical system closely through the coming days, and perhaps even the southern Japanese Islands.
The biggest threat at the moment, according to the latest JTWC Warning #7, would be heavy weather and seas impacting Palau…and perhaps parts of Yap too. Otherwise, all open ocean vessels should be steering clear of this strengthening tropical cyclone.
The models are divided in their guidance, with the eventual track either striking the Philippines, or potentially curving up towards southern Japan. Thus, the current JTWC long range forecast is carrying a low confidence level.
Source: Pacific Disaster Center, NASA, NOAA and PAGASA