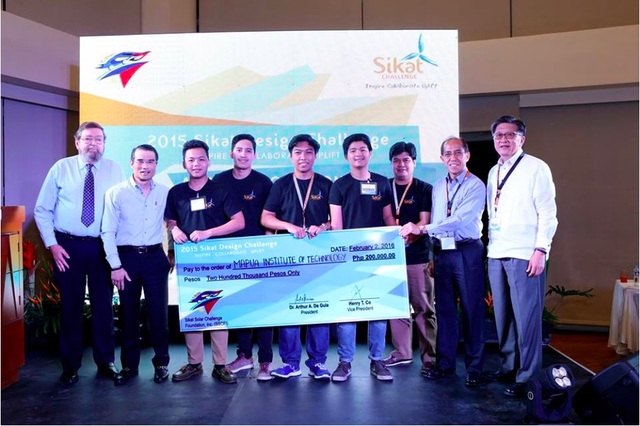 Engineering students from Mapua Institute of Technology won a competition on Renewable Energy solutions. ADMU and DLSU were runner-ups.
MANILA, Philippines (Feb. 4, 2016) — Students from top schools in the country won in the Sikat Design Challenge, a renewable energy contest, on Tuesday, February 2, in Makati City.
Sikat Design Challenge is the country's first inter-university competition focused on Renewable Energy solutions for rural areas.
Project Bathala by Team Carding, a group of engineering students from the Mapua Institute of Technology, won a grand prize of P200,000 in the renewable energy challenge. Bathala is a stove with power and water for the Dumagat community in Norzagaray, Bulacan.
Groups from Ateneo de Manila University and De La Salle University both won P150,000 each as runner-ups. Team Agilas from ADMU was awarded for its Tanglaw project, a pico-hydroelectric generator, while Team Animo – DLSU got the award for FlowE+, a hybrid micro-hydro and aquaponics system.
Energy poverty
The amount won by the students from the competition will be used to develop their projects.
Twelve schools participated in the competition. The other finalists were the following schools: Batangas State University, Bulacan State University, Foundation University, Negros Oriental State University, Polytechnic University of the Philippines, St Paul University, Silliman University, and University of Santo Tomas.
Organized by Sikat Solar Challenge Foundation, Inc, college and university students showcased their creativity in innovative projects that address "energy poverty" in marginalized areas and help sustain livelihood in these communities.
The government seeks to light up 90% of households in the country by 2017. The biggest gaps are in the small villages, many of which are in remote areas difficult to connect to power grids. In 2015, there were about 5,000 villages across the Philippines that remain without electricity.
---
  by Aika Rey | Rappler.com