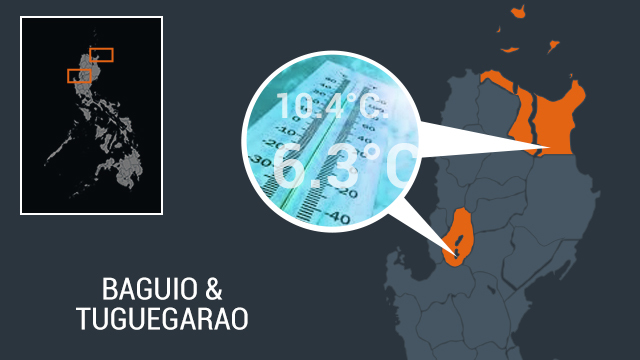 Colder weather is expected until early February in these two cities in northern Philippines
TUGUEGARAO CITY, Philippines (Jan. 27, 2016) — The cities of Baguio and Tuguegarao in the northern Philippines recorded "extremely" cold weather in the past two days – the lowest temperature since the start of the northeast monsoon or hanging amihan season in November.
Raymond Ordinario, weather forecaster of the Philippine Atmospheric, Geophysical and Astronomical Services Administration (PAGASA) in Baguio told Rappler that Baguio City on Tuesday, January 26, surpassed its lowest recorded temperature on Monday.
In a phone interview, Ordinario said Baguio City reached an extreme 10.8 degrees Celsius at 6 am on Tuesday, colder than Monday's 11.5 degrees Celsius.
Ordinario said the cold weather might prevail until late February, but it is possible that "no more extreme temperature records" could be expected because of the effect of the prolonged dry season.
Baguio suffered its coldest temperature on January 18, 1961, at 6.3°C.
On January 24, 2015, it recorded its lowest at 10.4°C. Before that, on January 19, 2014, the temperature dipped to 8.1 degrees. It was the coldest since January 14, 2009, when it fell to 7.5 degrees.
Considered the hottest city in the Philippines, Tuguegarao City also recorded its lowest temperature since October.
Leo Bunag, weather forecaster of PAGASA-Tuguegarao, said the city recorded 17.8 degrees Celsius on Monday, January 25.
Weather forecasters said Baguio and Tuguegarao may continue to experience colder weather until the end of January or the first week of February.
---
  by Raymon Dullana | Rappler.com