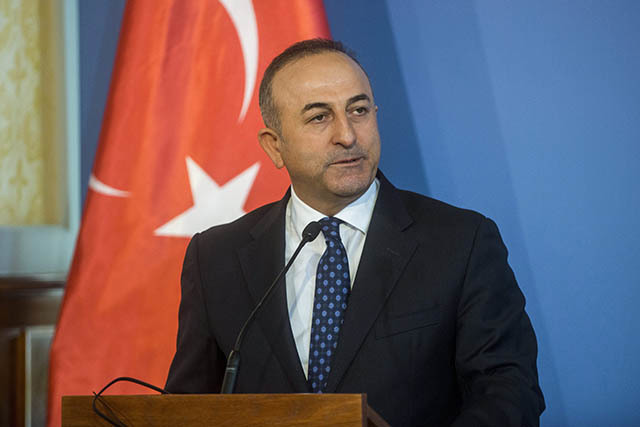 The coordinated plans by Riyadh and Ankara add a new element to the explosive situation in Syria
ISTANBUL, Turkey (Feb. 13, 2016) — Turkey and Saudi Arabia could launch a ground operation against Islamic State jihadists in Syria, the Turkish foreign minister said on Saturday, February 13, adding the kingdom was already sending jets to a Turkish base to attack the extremists.
The coordinated plans by Riyadh and Ankara, who are pursuing an increasingly tight alliance, add a new element to the explosive situation in Syria where Russia has been backing a successful regime offensive against rebels.
"If there is a strategy (against ISIS) then Turkey and Saudi Arabia could enter into a ground operation," Foreign Minister Mevlut Cavusoglu was quoted as saying by the Yeni Safak and Haberturk newspapers after taking part in the Munich Security Conference.
"Some say 'Turkey is reluctant to take part in the fight against Daesh (ISIS)'. But it is Turkey that is making the most concrete proposals," he said.
Cavusoglu added that Saudi Arabia is also sending planes to the Turkish base of Incirlik, a key hub for US-led coalition operations against ISIS, already used by Britain, France and the United States carrying for cross-border air raids.
"They (Saudi officials) came, did a reconnaissance of the base. At the moment it is not clear how many planes will come," Cavusoglu said.
'Saudi could send troops'
Asked if Saudi Arabia could send troops to the Turkish border to enter Syria, Cavusoglu said: "This is something that could be desired but there is no plan. Saudi Arabia is sending planes and they said 'If the necessary time comes for a ground operation then we could send soldiers'."
His comments come after Assad defiantly told Agence France-Presse (AFP) in an exclusive interview published on Friday that he would recapture the whole of Syria and keep "fighting terrorism."
Assad also said he "doesn't rule out" that Turkey and Saudi Arabia would intervene militarily in Syria but said that his armed forces "will certainly confront it".
Saudi Arabia had already said earlier this month that it was ready to join any ground operation against ISIS. But this is the first time a top Turkish official has publicly raised the prospect, long the subject of speculation, of a joint ground incursion with the kingdom.
Turkey's relations with fellow mainly Sunni Muslim power Saudi Arabia have warmed considerably in recent months. Ties had been damaged by Saudi's role in the 2013 ousting of Egyptian president Mohammed Morsi, a close ally of Ankara.
Saudi Arabia and Turkey both see the ousting of Syrian President Bashar al-Assad as essential for ending Syria's 5-year civil war and are bitterly critical of Iran and Russia's support of the Syrian regime.
Turkey and Saudi back rebels who are seeking to oust Assad and both fear the West is losing its appetite to topple Assad on the assumption he is "the lesser of two evils" compared to the ISIS jihadists.
Both are outraged by the Russian military intervention in Syria, which analysts believe has given Assad a new lease of life and has also deeply alarmed the West.
'New Cold War'
Russian Prime Minister Dmitry Medvedev said Saturday that strains between Russia and the West over the Syria and Ukraine crises have plunged the world into a "new Cold War."
"Almost every day we are accused of making new horrible threats either against NATO as a whole, against Europe or against the US or other countries," Medvedev said in Munich.
Speaking in Munich, US Secretary of State John Kerry complained that the vast majority of Russia's attacks in Syria were against "legitimate opposition groups" rather than ISIS jihadists.
"We think it is critical that Russia's targeting change," he said.
Russia also dispatched a new patrol ship armed with cruise missiles to the Mediterranean, with reports saying it was bound for Syria.
With violence still raging on the ground, an ambush by Syrian rebels on pro-regime forces near Damascus this week killed 76 fighters, a monitor said Saturday.
World powers on Friday announced an ambitious plan to stop fighting in Syria within a week, but doubts have emerged over its viability, especially because it did not include ISIS or Al-Qaeda's local branch.
The 17-nation International Syria Support Group, which includes Turkey and Saudi Arabia, also agreed that "sustained delivery" of humanitarian aid would begin "immediately."
---
  by Stuart Williams, AFP | Rappler.com