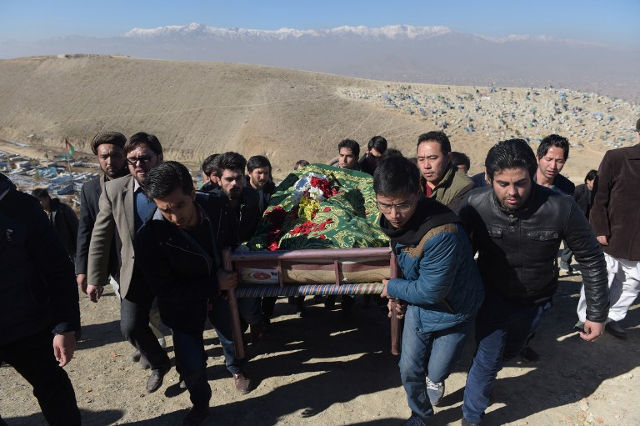 The attack comes after the Taliban declared TV stations Tolo and 1TV as legitimate 'military targets'
KABUL, Afghanistan (Jan. 21, 2016) —Mourners in the Afghan capital held emotionally charged funeral ceremonies Thursday, January 21, for 7 employees of popular TV channel Tolo who were killed in a Taliban suicide bombing, which rights groups denounced as a "war crime".
Tearful tributes poured in for the workers, including three young women, who were killed Wednesday in Kabul for what the Taliban said was revenge for "spreading propaganda" against the insurgent group.
The assault on Tolo, a privately run news and entertainment station often critical of the militants, marks the first major attack on an Afghan media organization since the Taliban were ousted from power in 2001.
Shrouded in black, senior officials paid mournful tributes in a Tolo studio with flower-bedecked portraits of the seven victims, mostly behind-the-scenes staff from the channel's graphics and dubbing departments.
"This was not just an attack on Tolo, but an attack on journalism," Abdul Bari Jahani, minister of information and culture, said during the memorial service which was broadcast live.
The attack came just months after the Taliban declared Tolo and 1TV, another private news channel, as legitimate "military targets".
The edict was in response to their reports claiming that the group's fighters had raped women at a female hostel in Kunduz, after the group briefly captured the northern city in late September last year.
The Taliban rejected the reports as fabrications, saying they were examples of propaganda by the "satanic networks".
At a tearful funeral service for one of the victims, 28-year-old Tolo video editor Jawad Hussaini, his family lashed out at the Taliban.
"Jawad's sister is an army officer and you (Taliban) must know that she will take revenge for his brother," said his brother, Waseq Hussaini.
Media mogul Saad Mohseni, the chairman of Moby Group which owns Tolo, also struck a defiant note, saying "the voice of Afghanistan will not be silenced by this incident".
The deadly assault spotlights the dangers faced by media workers in Afghanistan, as the security situation worsens amid a growing wave of militant attacks.
"The targeting of journalists reflects a depraved strategy to make media freedom a casualty of the ongoing conflict," Human Rights Watch said in a statement.
"Designating journalists and other civilians as 'military targets' does not make them so, and deliberately attacking them constitutes a war crime."
Independent media outlets, banned by the Taliban during their 1996-2001 rule, have mushroomed in the war-torn nation in recent years and hailed as one of the bright spots in efforts to foster democracy in the country.
But despite their rapid growth, Afghanistan remains one of the most dangerous countries in the world for journalists, ranking 122 out of 180 in the World Press Freedom Index compiled by Reporters Without Borders.
---
  by Agence France-Presse | Rappler.com