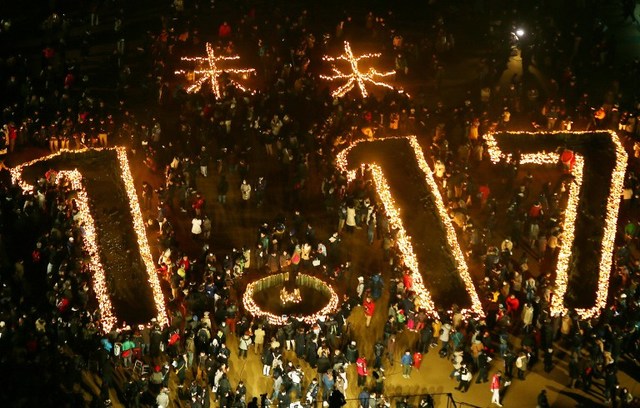 The 7.2 magnitude quake hit at 5:46 am on January 17, 1995, killing 6,434 people and leveling much of the city
TOKYO, Japan (Jan. 17, 2016) — Japan on Sunday, January 17, marked the 21st anniversary of a devastating earthquake in the western city of Kobe that killed more than 6,400 people, as bereaved families looked to keep memories of the victims alive.
An estimated 9,000 people gathered for an annual early-morning commemoration at a public park in the port city, where a 7.2 magnitude quake hit at 5:46 am on January 17, 1995.
It killed 6,434 people and leveled much of the city, forcing the quake-prone nation to conduct major upgrades of its disaster preparedness.
"Sadness never heals. But everyone is doing his or her best to continue living," an elderly woman told national broadcaster NHK at the pre-dawn memorial.
Participants held a candlelight vigil and observed a moment of silence at the park, which served as an evacuation center after the 1995 jolt.
But over time, memories of the quake have faded in the community.
A total of 59 civic events were planned this year for the anniversary, roughly half as many as a year ago, when the nation marked two decades since the disaster, the Yomiuri Shimbun said in its editorial.
About 40% of Kobe's residents were either born after the quake or moved to the city in the years following the disaster, according to the top-selling daily.
"How can the memories of that day be passed on to the next generation? That's an issue that the city that recovered from the disaster must face," the Yomiuri editorial said.
NHK echoed the sentiment and said: "The city faces a challenge of providing support to those who experienced the disaster while also passing on the memories and lessons learned to the next generation."
Japan suffers about a fifth of the world's most powerful tremors.
A 9.0 magnitude quake struck the nation's northern area in March 2011, triggering a huge tsunami that smashed into the country's northeast coast, killing around 16,000 people while some 2,600 people remain missing.
The disaster also triggered the world's worst nuclear emergency in a generation.
---
  by Agence France-Presse | Rappler.com