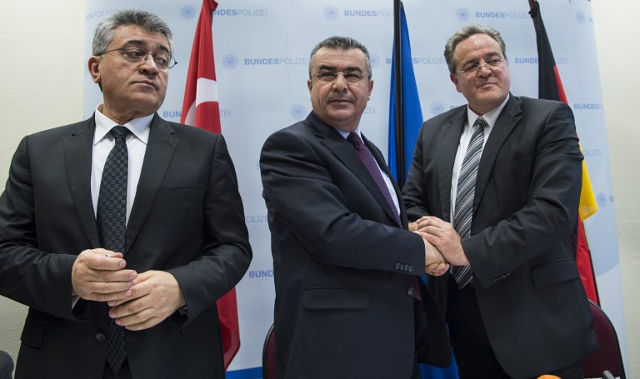 The human traffickers allegedly purchase 3 old and decrepit cargo ships in Turkey, loading each with hundreds of paying migrants, then sending the vessels on autopilot toward the Italian coast.
POTSDAM, Germany (Jan. 21, 2016) — German and Turkish police on Wednesday, January 20, announced major coordinated raids against a criminal trafficking network that used unseaworthy ships to send more than 1,700 refugees to Europe.
The joint operation was a major strike against international organized crime fueling the record migrant wave to Europe, police chiefs from both countries told a press conference at Potsdam outside Berlin.
Nearly 500 German police officers and commandos arrested five suspects in 17 pre-dawn raids across 6 German states, said federal police chief Dieter Romann.
Similar raids took place in Turkish cities including Istanbul, Ankara and Mersin, where 30 arrests were made, Turkish national police chief Mehmet Lekesiz told the joint press conference.
He added that Turkish police had also "rescued hundreds of innocent Syrian people fleeing civil war from the exploitation of a cruel gang".
The human traffickers allegedly bought three old and decrepit cargo ships in Turkey, loaded each with hundreds of paying migrants and sent the vessels on autopilot toward the Italian coast.
Police labelled the vessels "ghosts ships" as they crossed the sea without captains steering them.
Taking up to $6,000 (5,500 euros) from each of the more than 1,700 people, the traffickers acted "not out of an altruistic desire to aid escapes but simply to make money," said Romann.
"Anyone who crams over 1,700 people into the hulls of decrepit and dilapidated cargo ships, then sets the autopilot for the Italian coast, is consigning human beings to their fate and tacitly accepting their deaths in case (the boat) capsizes," he said.
The three dangerous voyages across the Mediterranean allegedly netted the traffickers an estimated $9.5 million, the police chiefs said.
For Germany, struggling with a record influx of 1.1 million asylum seekers last year, battling human traffickers is a key priority, along with securing the EU's external borders and ensuring a fairer distribution of refugees throughout the bloc.
Berlin has also suggested the EU do more to help Turkey accommodate millions of Syrian refugees in return for cooperation from Ankara to secure its land and sea borders with the 28-member bloc.
On Friday, Chancellor Angela Merkel hosts Turkish Prime Minister Ahmet Davutoglu in Berlin for a joint meeting of key ministers from both governments.
---
  by Agence France-Presse | Rappler.com